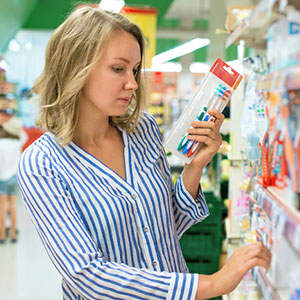 Search online for "right tool for the job" and you'll get over a billion results related to everything from baking cakes to repairing cars. It's also just as applicable to oral hygiene.
One of those "right" tools is the humble toothbrush. Most of us use the manual variety whose basic components—a long narrow handle and a bristled head—haven't changed much in a couple of centuries. That hasn't stopped competing manufacturers, however, from striving to produce the latest and greatest toothbrush. It's a wonderful testament to the free market, but it might leave you dizzy with indecision about which product is right for you.
You can avoid this paralysis if you remember why you're using a toothbrush in the first place—to remove the daily buildup of dental plaque, a thin bacterial film that causes tooth decay and gum disease. With that in mind, here are the top things to consider when picking out your next toothbrush.
Bristle texture. Although you might think a stiff-bristled brush would be better at removing plaque, most dental professionals recommend soft bristles. Stiffer bristles can damage your gums and lead to recession; on the other hand, coupled with the mild abrasives and detergents in toothpaste, soft bristled-brushes are just as effective in removing plaque.
Comfortable size and shape. Toothbrushes come in various lengths and handle widths, so choose one that's comfortable in your hand. If you have issues with manual dexterity, consider one with a wider and thicker handle that's easier to hold. You'll be acquainted for at least six months (that's how often you should change out your current brush for a new one), so get a toothbrush that feels right to you.
The ADA Seal of Acceptance. Like toothpaste, the American Dental Association also tests toothbrushes. Those that meet the ADA's high dental product standards can include the ADA Seal of Acceptance on their packaging. When you see it, it's a good indication that particular toothbrush will perform well. You can also get advice from your dentist or hygienist on what type of brush you should use.
Every time you brush, you're potentially improving your dental health and avoiding disease. Make sure it counts with a toothbrush that's right for you.
If you would like more information on toothbrushes, please contact us or schedule an appointment for a consultation. You can also learn more about this topic by reading the Dear Doctor magazine article "Sizing Up Toothbrushes."